Del 15 al 18 de noviembre, Bioplagen estuvo presente en Eurotier, la feria ganadera europea más importante. El certamen contó con más de 1.800 expositores de 57 países y más de 106.000 visitantes de 141 países, los cuales buscaban una visión general de las tendencias e innovaciones actuales.
La presencia de Bioplagen ha sido todo un éxito. Recibimos a numerosos visitantes a quienes pudimos aportar completas soluciones innovadoras para garantizar protección y seguridad a la industria ganadera.
El propósito del modelo de Bioplagen es maximizar las sinergias de aplicar protocolos de bioseguridad apropiados, concibiéndolo como un círculo virtuoso, una espiral en 360º con sucesivos protocolos de actuación que aportan la mejora continua de la instalación ganadera y el bienestar de los animales.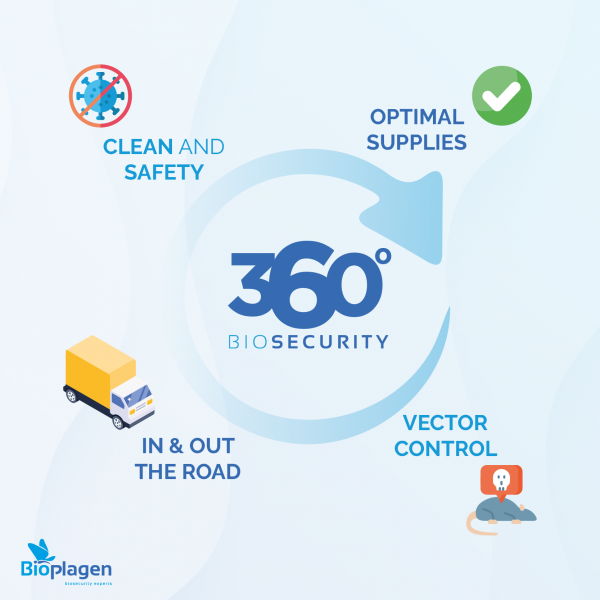 Han sido unas interesantes jornadas para reunirnos con proveedores y clientes.
Agradecemos a todos los visitantes que se interesaron por conocer y colaborar con nosotros, os esperamos en la próxima edición con más novedades e innovación.
From 15 to 18 November Bioplagen was present at Eurotier, the most important European livestock fair. The event featured more than 1,800 exhibitors from 57 countries and more than 106,000 visitors from 141 countries seeking an overview of current trends and innovations.
The presence of Bioplagen was a success. It welcomed many visitors to whom we were able to tell the most innovative solutions to ensure the necessary safety and security.
The purpose of the Bioplagen model is to maximize the synergies of applying appropriate biosafety protocols, conceiving it as a virtuous circle, a 360º spiral with successive action protocols that provide the continuous improvement of the livestock facility and animal welfare.
They have been interesting days to meet with suppliers and customers.
We thank all the visitors who were interested to know and collaborate with us, we wait for you in the next edition with more news and innovation.